Grade School Programs

In response to the COVID-19 pandemic, public, indoor events or classes are not currently offered. Use the request form if you would like to request a virtual visit.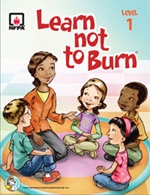 NFPA has created programs to help teachers reach their students with important fire prevention lessons. Learn Not to Burn Grade 1 and Grade 2 presents six fire safety messages using classroom lessons, activities, and home connections. It can be taught as a stand-alone fire safety unit or can easily be integrated into language arts core curriculum lessons. Snohomish Regional Fire & Rescue would love to be invited to your classroom to teach a lesson to support the fire safety messages within the curriculum. Learn Not to Burn is an easy to use, flexible guide for teachers to respond to the needs of the classroom. Make time for fire safety education in your classroom.
Snohomish Regional Fire & Rescue utilizes this curriculum when visiting 1st and 2nd grade classes. If you would like to schedule a visit from Snohomish Regional Fire & Rescue to your classroom please fill out the online request form and you will be contacted by our Public Education Team. For scheduling purposes, please submit your request for a visit at least 3 weeks in advance.
If you are homeschooling, check out the following home education lesson here: