Community Resource Paramedic

David Hanson - Paramedic
crp@snofire7.org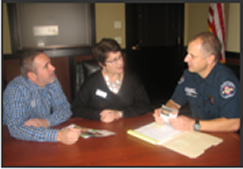 The Community Resource Paramedic (CRP) Program is community based health care in which paramedics' function outside their customary emergency response roles. The focus of this program is three fold.
Improving the overall patient experience
Improving the health of the community as a whole
Reducing the cost of health care
Intended to be both flexible and broad, the CRP Program does not cater to any one demographic. Seniors and residents of any age with mobility issues, mental health issues or chronic illness can benefit from the CRP Program, which will operate on a referral basis.
How does a patient qualify?
Patients meeting CRP Program criteria can be referred by emergency personnel, a healthcare provider, or through a vetting process that identifies patients based on how frequently they use 911. Once referred as a candidate for the CRP Program, CRP Craig Fisher will open up a line of communication and visit the patient in their home.
Connecting patients to services that can help with long term care.
CRP Craig Fisher will follow up with patients that have non-emergent medical conditions or issues. Additionally, he will provide assistance as needed and connect people to health resources before they need to resort to calling 911.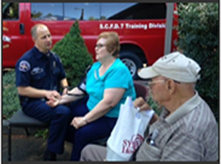 What are some common referrals?
Often times firefighters and paramedics are asked into people's homes where they see potentially dangerous situations they can't remedy during an emergency call. For example, a lack of hand rails in the home of an older person who is vulnerable to falls.
Another example would be someone who has been prescribed too many medications and is experiencing side effects that might have been prevented with a little coordination by health care providers.
Yet another example would be a patient who is living with a chronic illness and could benefit from help to better manage their conditions at home as opposed to a costly visit to a hospital emergency room.
Fire districts partner to serve their communities with a common goal.
The CRP Program takes a proactive approach to health care by identifying patient needs before an emergency occurs. Organizers designed the program to grow with time, and offer a consistent service throughout the county.
This one-year pilot program is the second of its kind in Snohomish County.
CRP Programs throughout the country have demonstrated that paramedics can be trained to safely and effectively perform an expanded role, with cost savings.
Current funding for the CRP Program is provided by the three districts' general operating budgets. The districts are working to secure additional funding by partnering with local hospitals and/or with a federal government program.